What Are The Most Effective Crystals For Sleep?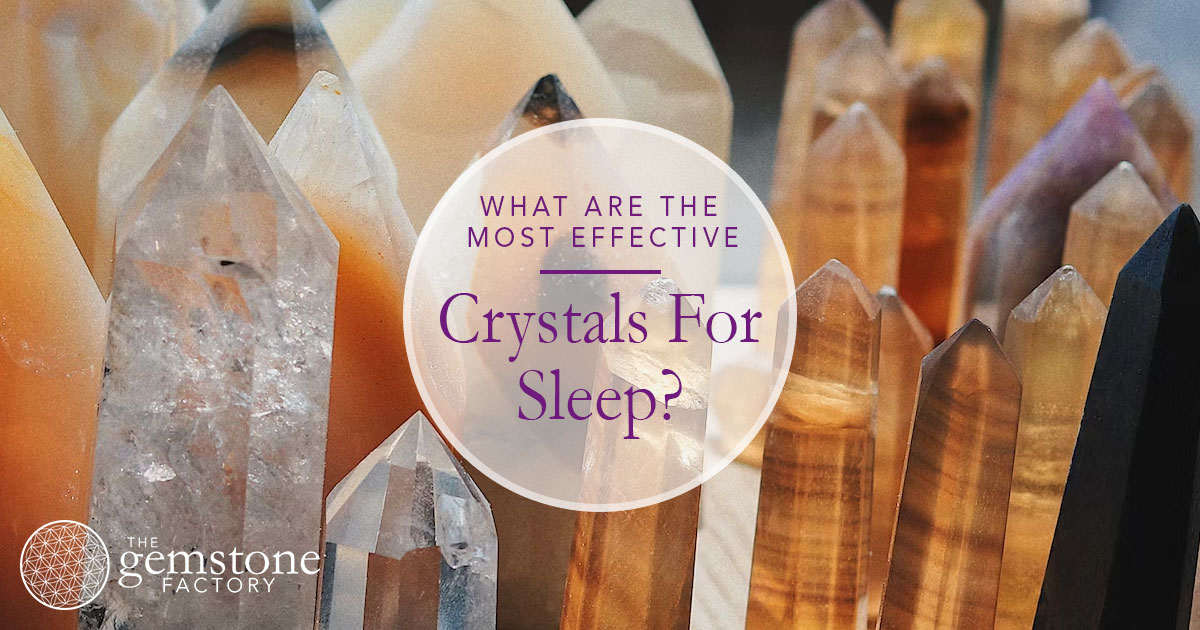 Do you often get asked what crystals can help with sleep? Millions of people struggle to enjoy a restful night's sleep. Your crystal inventory offers a unique natural way to help customers while introducing them to the benefits of crystals. Keep your store stocked with these incredible gemstones and crystals, known for their sleep-improvement properties.
Amethyst Promotes Serenity
The soft purple hues of Amethyst make it a popular gem choice for retailers and consumers alike. It's a lovely crystal for home decor and jewelry, but it's also recognized as having a calming and soothing effect. Amethyst which is available in so many forms, from small pendants to giant clusters or cathedrals, can be worn, carried or placed in the home. You can showcase Amethyst, known as the stone of contentment and peace, to your customers as a great source of serenity, promoting a restful sleep.
Selenite's Purifying Energy
Often known for its purifying energy, Selenite can be another recommendation you make to your customers who are looking for an improved night's sleep. These crystals are frequently used to help clear and cleanse spaces, ridding negative energies. A selenite lamp placed on a dresser also looks beautiful and can be lit with any soothing color light bulb. So, it's a welcome addition at bedtime for those who struggle to sleep, believing they're plagued with burdensome energies.
Rose Quartz Is Forgiving
Another wholesale crystal to consider offering your customers is Rose Quartz. This self-love gem can often provide insomnia relief to those who mentally struggle to relax at bedtime. It is believed that Rose Quartz promotes inner peace, allowing one to let go of negative thoughts Those who seek inner peace to relax can keep the Rose Quartz nearby or under their pillow to inspire a more peaceful, forgiving, and grounded energy at night.
Sodalite for Nighttime Overthinkers
A common reason people have trouble sleeping is overthinking. Playing the day's stresses and anxiety over and over can prevent the body from relaxing and achieving a healthy sleep state. As a gem store or crystal retailer, you can share the incredibly calming energies of Sodalite to help. Known for its tranquility and reassuring properties, Sodalite can inspire direction and eliminate confusion providing calming energies, helpful in reducing those worst-case-scenario thoughts that so often prevent sleep.
Moonstones and the Metaphysical
Tap into the metaphysical and meditational properties of the lunar cycle with Moonstones. These gems are believed to promote a deeper and more authentic connection to self. It helps to remove emotional obstacles allowing one to fulfill their destiny. And the ability to connect with the moon's energy can help facilitate a meditative state conducive to healthy sleep.
Dream Soundly with Lapis Lazuli
Some of your customers might struggle with sleep because of not-so-pleasant dreams. You can offer them Lapis Lazuli. This wisdom-based gemstone is known to provide insights into the meaning of dreams, allowing for a connection with the dream and guidance towards resolving the conflict. It's also believed to inspire a greater knowledge of the higher self. Once your customer gains insight and accepts the counseling offered the not-so-pleasant dreams will disappear.
Ward Off Nightmares with Jade
Those who reach out to you about which crystals are best for warding off nightmares will want to experience the positivity of Jade. Known as the dream stone, this "lucky" gemstone promotes positive energies. Jade energy helps transmute suppressed emotions through dreams. A piece of Jade placed under the pillow opens the pathways to understanding the dream and releasing negativity.
Other Crystals with Sleep-Inducing Qualities
In addition to the crystals shared above, add the following gems to your inventory as others known for their sleep-inducing qualities.
Fluorite – promotes focus and removes distractions.
Smoky Quartz – stabilizes and grounds those who suffer from insomnia.
Celestite – promotes peaceful and relaxing energy with its soft blue hues.
Howlite – reduces stress and anxiety that often cause nightmares.
Black Tourmaline – wards off negativity and promotes gentle and protective properties, inspiring relaxation.
Your Trusted Partner for Wholesale Crystals
With so many of your customers struggling to enjoy a great night's sleep, you have a great opportunity to share these relaxing and sleep-inducing crystals and gems as a solution to their nighttime unrest. You can always keep your shelves stocked with an inventory full of the best gemstones when you partner with The Gemstone Factory.
Start exploring our wholesale crystals online to see your wholesale prices and place an order. You can email our team at sales@gemstonefactory.net with any questions you may have. Additionally, if you're in the South Florida area, you can email for an appointment and visit our wholesale crystals showroom!