Exploring The Uses, Benefits, And Properties Of Tumbled Stones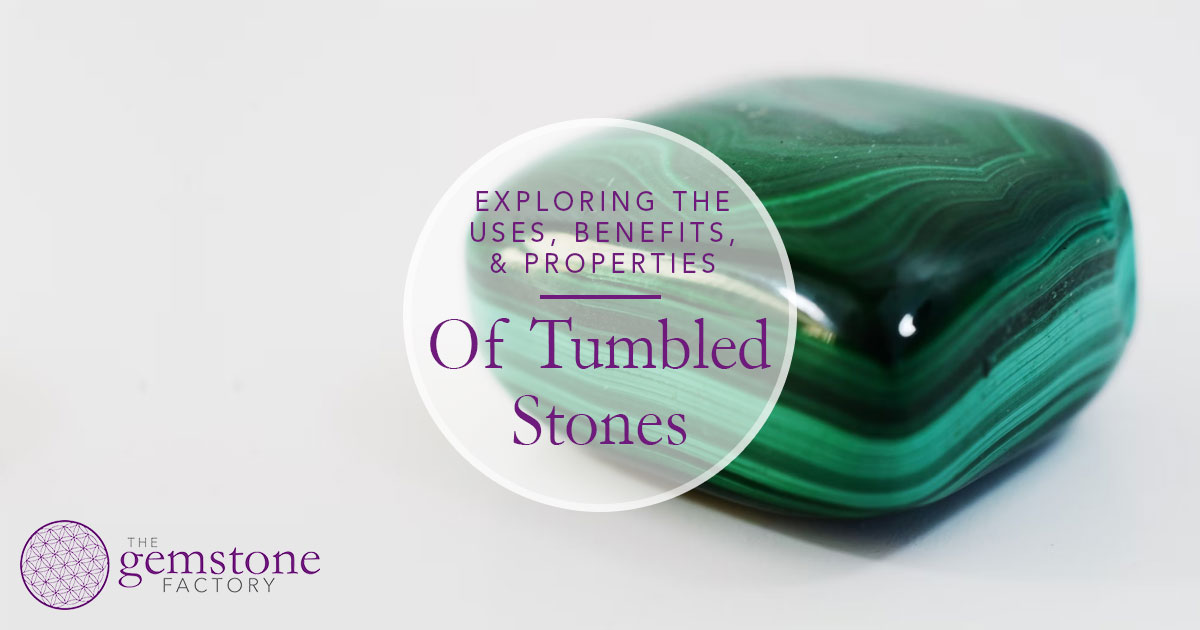 Tumbled stones offer a versatile and cost-effective way to introduce the power of gemstones to your customers. These smaller yet powerful stones can be used in a variety of ways and emit a soft energy that spreads out equally from all around the smooth stone. Wholesale tumbled stones have been put into a tumbler to produce their more rounded shape. Each tumbled stone typically measures ½" – 1 ½" but can be larger or smaller. They are usually sold in one-pound or one-kilogram quantities by gemstone wholesalers.
Healing Properties & Benefits Of Tumbled Stones
The rounded shape of tumbled stones allows energy to flow unobstructed from all around the stone generating a more gentle and all-encompassing energy that can help heal your mental, emotional, physical, or spiritual health effectively. These beautiful stones are made by tumbling and polishing natural raw rocks and each stone has its own energy pattern and frequency that helps to bring balance. The stones interact with our own energy, clearing emotional or mental blockages and attracting positive relationships. The smaller size of tumbled stones allows them to be easily worn or carried and are often placed right on the body to help clear the chakras.
As each wholesale tumbled stone has a special signature, here are some of the gemstones and their corresponding energy:
Moonstone helps nurture the heart and prepare you for new relationships. It allows for introspection and insight, working out conflicts, and making space for personal growth. Moonstone can be recommended to customers who are looking for a new relationship or who want to keep their existing ones strong.
Amethyst is a powerful tool in healing a cluttered mind. It is a stone of peace and calm and is great for meditation. The tranquil energy of amethyst provides stability, it is like a warm hug. Amethyst works on opening the crown chakra. Just place a tumbled amethyst in the middle of the forehead.
Citrine can range from a pale yellow to brownish-gold color. It can be used to enhance mental focus and clarity which is why citrine is commonly known to assist in business success and wealth. Citrine's energy promotes balance of the emotional and intellectual sides of the mind facilitating problem-solving. Citrine is one of the few minerals which does not retain any negative energy and does not need cleaning.
Uses Of Wholesale Tumbled Stones
In addition to the healing properties, there are many other ways to use our exquisite wholesale tumbled stones, including:
Enhancing plain vases
As decoration, placed in jars or dishes
Accents in potted plants
Jewelry
Arts & crafts
As a base for a cosmetic brush holder
Find Wholesale Tumbled Stones Online
Wholesale tumbled stones are a great way to bring a large variety of gemstones into your location without spending a fortune. In addition, your customers can affordably purchase several stones, benefiting from their healing energies.
When you're looking for an assortment of different tumbled stones, visit our wholesale website which showcases a large number of tumbled stones, picturing their beauty. The crystals and stones we sell are available in many shapes and sizes, perfect for homes, museums, gift shops, galleries, and new-age stores.
At The Gemstone Factory, we are committed to offering the best quality products at affordable prices. Please use our website to purchase our tumbled stones or email us at sales@gemstonefactory.net for more information.