Ideas On How To Display Your Gemstone Pendants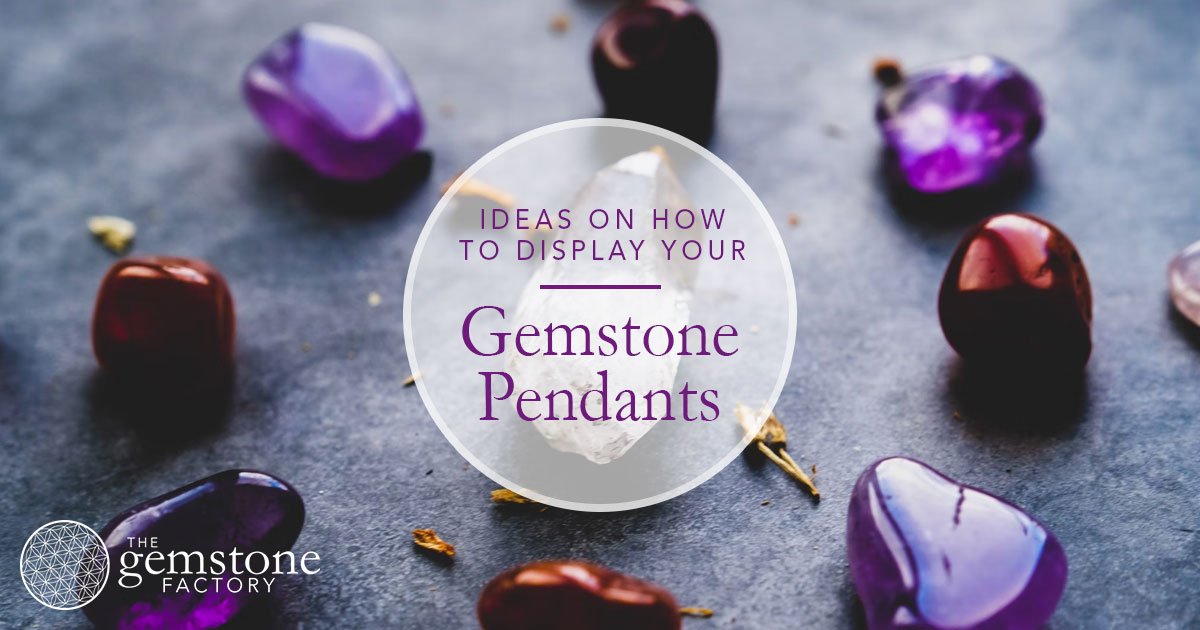 Wholesale gemstone pendants and necklaces are beautiful pieces of jewelry that can turn any outfit from drab to fab in minutes! With their unique colors and textures, they can be used to make a statement on their own or simply to complement other pieces of jewelry.
However, when it comes to displaying these pendants and necklaces, it can be difficult to find the perfect way to showcase their beauty. If this is something that you've been struggling with, then you've come to the right place!
The Gemstone Factory is here to share seven effective ways to display your gemstone pendants.
1. Jewelry Display Cases
When it comes to showcasing your pendants in a retail environment, jewelry display cases are a great option. Display cases are available in a variety of sizes and styles, which means that you have the creative freedom to choose the one that best suits your store's decor. Lighted displays also add extra sparkle to displayed jewelry.
To make it easy for customers to see and access the pendants, be strategic with product placement. A compact 18 bin gemstone display allows for a large amount of pendants to be placed in a small space, granting your customers easy access to a wide variety of gemstone jewelry. A great place to display is on a countertop or table.
2. Pendant Trays
Pendant trays are another way to display multiple styles of gemstone pendants in a small space. Apart from being available in different sizes, these trays can also be made from different materials, like acrylic, velvet, or even leather. You can also use a large amethyst or quartz cluster to display jewelry.
By placing these trays on a shelf or countertop, customers will be able to easily browse through the selection of pendants.
3. Necklace Stands
If you're looking to showcase individual pieces of gemstone jewelry, then necklace stands are the way to go! After choosing the style that best suits your store, these stands can be placed on a counter or tabletop so that they can be seen up close.
4. Wall Displays
Wall displays are a great way to showcase your wholesale gemstone pendants in a unique and creative way. The best part is that they can be customized to match the rest of your aesthetic!
Once they're in place, you can decide whether you want your wall display to showcase individual pendants or a set of pendants that complement each other.
5. Jewelry Armoires
Jewelry armoires are a great storage and display option for your gemstone jewelry. Along with their variety of shapes and styles, their multiple drawers and compartments make organizing your collection easy.
No matter where you place the armoire, it will be easy for customers to browse through the selection of pendants and necklaces.
6. Custom Display Boxes
For a more unique way to showcase your wholesale gemstone pendants, we recommend investing in custom display boxes. Not only can they be made to match your store's branding, but they can also be customized to fit your specific retail needs.
Whether it's an individual gemstone or a set of pendants that you're wanting to display, you can't go wrong with these custom display boxes.
7. Decorative Bowls
Decorative bowls are a simple yet effective way to display your gemstone pendants and necklaces. Gemstone bowls sculpted from Aragonite, Selenite, Rose Quartz, or Carnelian are eye-catching holders. To add a touch of creativity, you can fill the bowls with tumbled gemstones, gemstone chips, or other decorative materials. The pendants can then be placed on top of the material, creating a beautiful display.
Invest in Wholesale Gemstone Pendants and Necklaces Today!
Wholesale gemstone pendants and necklaces are a great investment for any business looking to add unique and beautiful pieces of jewelry to its collection. Displaying them in creative and effective ways enhances their beauty and showcases their uniqueness.
With a variety of display options available, you can choose the one that best suits your store's needs and attracts customers. By displaying your gemstone pendants and necklaces in an eye-catching way, you can increase sales and satisfy your customers' desire for unique and beautiful jewelry.
If you're looking for one-of-a-kind pendants and necklaces, don't hesitate to contact The Gemstone Factory today for a showroom appointment or visit our website www.gemstonefactory.com for a great online shopping experience.