Decorating Ideas With Crystals And Gems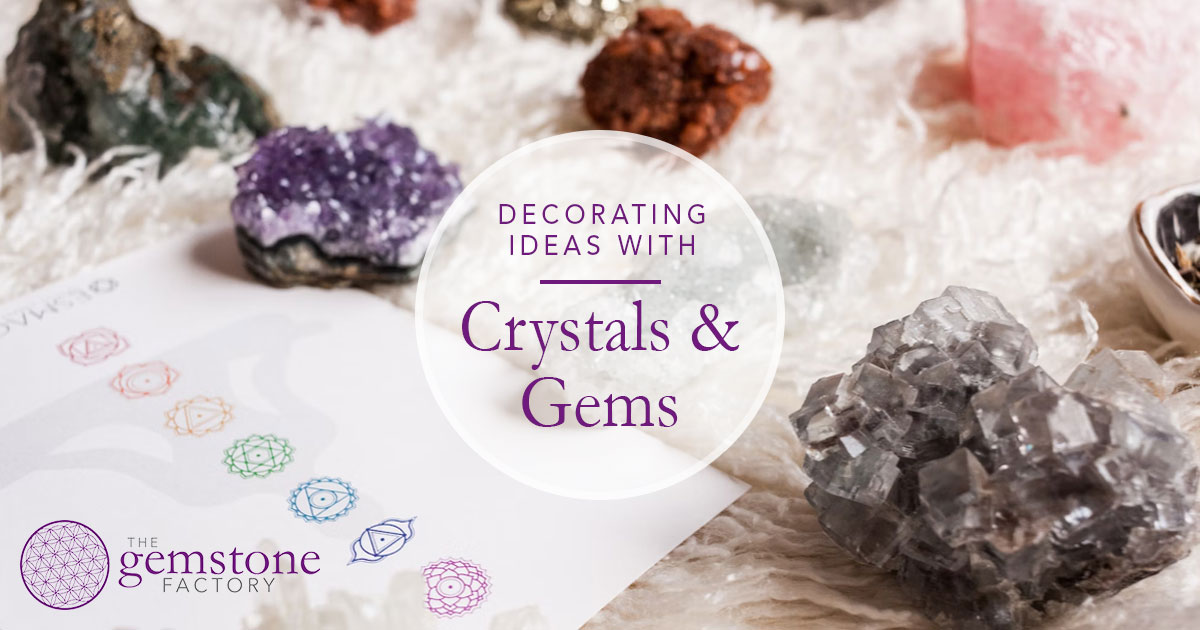 Crystals and gems are beautiful and can transform any space. Crystals are naturally occurring minerals while gems are rare, semi-precious, or precious stones which are made up of minerals that are cut and or polished. They both have special properties that can activate your personal energy field, bringing balance and clarity and can harmonize the energy in an area that they adorn.
One of the best ways to find these items for your clients is to shop wholesale crystals and gems. They look gorgeous when displayed, add a natural touch to an indoor space and provide a clean pop of color for any aesthetic.
Sculptures
A crystal sculpture is an easy way to add a touch of elegance. The wide array of available styles and colors allow the crystal sculptures to be used in many settings including table centerpieces, bookshelf decor, and as free-standing works of art. Wholesale crystals and gems can be used to create beautiful eye-catching focal points, drawing attention to a space. They're also great when trying to add a unique flavor to an otherwise neutral setting.
Candleholders
One simple way to incorporate Wholesale crystals and gems to any room is to add gemstone candleholders. Amethyst geode tealight holders will bring soft, subtle lighting to the dinner table, bathtub, fireplace mantel, or any setting you choose. Skyscraper selenite candleholders add a spectacular focal point to cocktail tables or shelves. In addition to looking beautiful, selenite's crystal energy is believed to help reduce stress and anxiety. It can also be used in healing, meditation, and crystal grids. Selenite is associated with bringing clarity. Thinking outside the box, you can Get creative with gemstone candleholders and consider using them for air plants.
Lamps
Crystal lamps are another way to add soothing light to a space and can be used in a variety of ways. They can be used as standalone table lamps, hanging lamps, or chandeliers. Crystals are available in many shapes and sizes, so you can choose the one that best suits the needs of the design. They are also available in various colors, so finding something that matches any decor perfectly is easy.
Decorative Bowls​​​​​​
Gemstone bowls are another great way to bring the beauty of natural stones into a home or office. Selenite bowls are hand crafted pieces of art that can add a touch of elegant calm to any room or desk space. They're great for holding small items like jewelry and keys, keeping them organized without looking cluttered. Aragonite and onyx bowls are also great options. These gorgeous bowls make a statement on their own or can be used to display another collection of crystals and gems.
Stands & Displays
Display your collection of power stones with a multicolor LED display or velvet pillow. Purchase sphere-shaped stands to display any egg, geode, polished, or natural stone. This can be done by simply placing crystals on the base or using some glue to secure them permanently. You may also want to consider using crystals in combination with other materials, such as wood or metal, creating a unique display of differing textures. Crystals and gems can also be used to decorate a stand or display that is used to hold a candleholder, lamp, or selenite bowl.
Wholesale Crystals And Gems In South Florida
These are just a few ideas for decorating with wholesale crystals and gems. We hope they inspire you and help you develop a tranquil space vision for your customers. Of course, wholesale crystals and gems are also used in jewelry and other accessories, so if you're looking for something unique and eye-catching to offer your clients, this might be a good place to start! The Gemstone Factory has supplied the wholesale community with crystals and gemstones as a family-owned wholesaler for over 25 years. We work with suppliers across the globe to ensure quality products and offer many one-of-a-kind "by piece" items as well as crystals that can be purchased by "bulk" pricing.
Request a showroom appointment by calling The Gemstone Factory at 954-341-3633 or emailing us at sales@gemstonefactory.net.